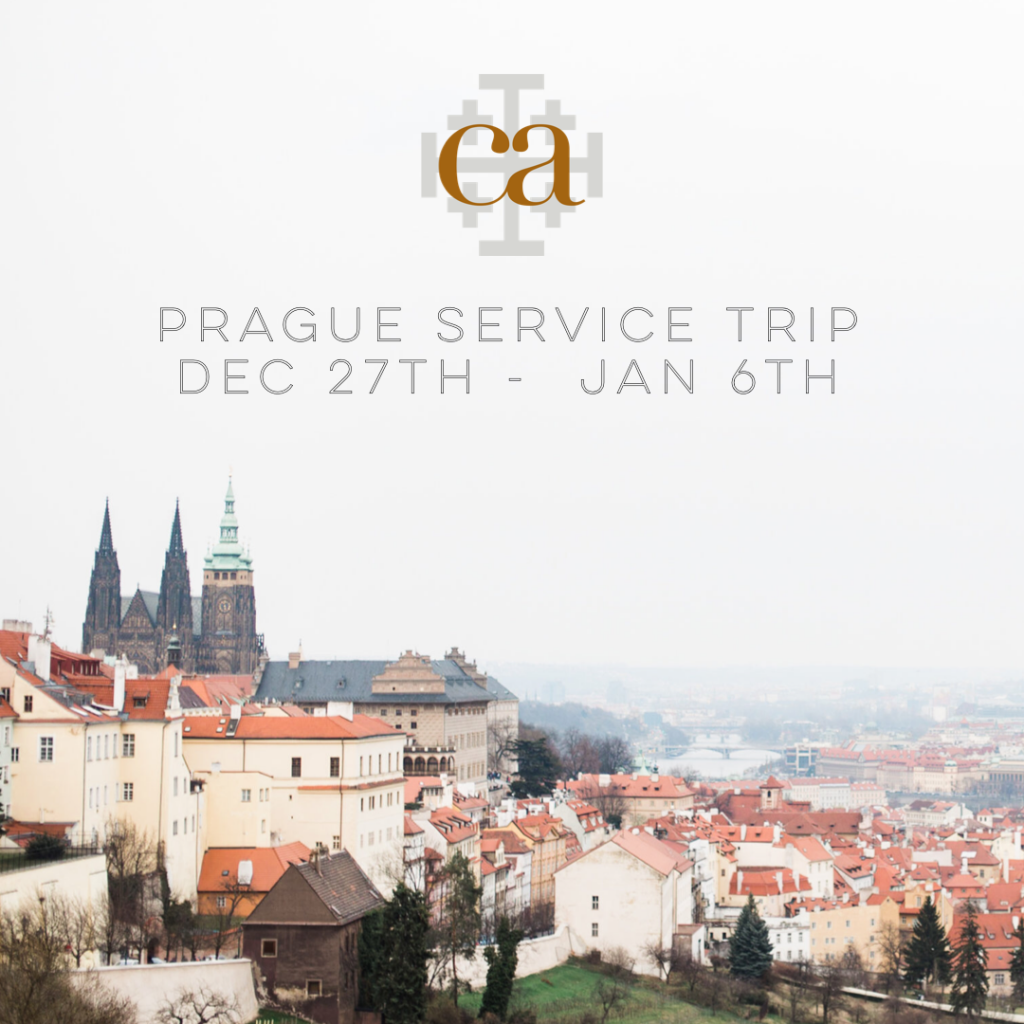 We are excited to be partnering with the Center for Leadership and Service at The University of Tennessee once again to lead a team of students and staff to Prague in the Czech Republic. We will be traveling to Prague on December 27th and returning January 6th.
This year Steve and Britton will be leading a team of twelve students and two University Staff to work and serve alongside our partners in Prague ministering to refugees, sex trafficking victims, and the homeless population.
We are excited to have three Collegiate Abbey students joining us on the trip as we seek to help others connect with God and each other.
Our Prague Support Goal, $10,000 by December 25th
We are trusting God to provide $10,000 for our service trip. Keep reading to find out the breakdown of this need and to give online via the form below. You can also help support our students going directly by clicking on their photo at the bottom of this page.
Scholarships ($5,000)
Collegiate Abbey would love to be able to help students who are trying to raise funds to go on this trip. In particular, this year we have three guys that are going with us to help represent Collegiate Abbey on the trip. The student participants of the trip are responsible for covering their cost for the 10-day trip (a total of $4,000 per student). The guys joining with us took a step of faith to come in faith that God would help provide for them to be able to serve while on the trip. We would love to be able to scholarship them to help cover the remainder of what they may need.
Staff Cost ($3,000)
While the University does help cover the cost of one of our staff, we need to raise the funds for the second member of our staff to join us on the trip. This is to help the cost of flights and meals while on the trip.
Service Projects ($2,000)
One of the ways we help serve the ministries in Prague is by helping to cover some of their needs. We will be buying winter clothes for refugees and helping cover the cost of those working to help reach out to sex trafficking victims.
–Special Need– The refugee ministry we help with has asked for mp3 players and for 3 small computers. This is for their work in the integration centers (former prisons) with the refugees. The mp3 players is a way to get them books easily and the computers are to help them fill out their paperwork for asylum. A large portion of these refugees are Christian refugees from Syria and Northern Iraq.
Our Team
Find out more about our students going and help support them directly by clicking on their image below!
Would you prayerfully consider helping to support the students go on the trip? Each one needs to raise a total of $4000 to cover the cost of the flight, housing, food, and service.  Any donation made to them via Collegiate Abbey is tax-deductible.