"Therefore do not be anxious about tomorrow, for tomorrow will be anxious for itself. Sufficient for the day is its own trouble." - Matthew 6:34
It's easy to be anxious these days. As we look at the world around us, we battle not to feel overwhelmed. 
Yet we read in Matthew 6:34 that we don't need to let our minds get stuck in a pattern of anxious thinking; instead, we should focus on the needs of today, trusting that God is ultimately in control. 
We have developed the Daily Check-In as a tool to help you assess your needs and priorities each day. Use this time to pause, set aside distraction, and focus on what's most important.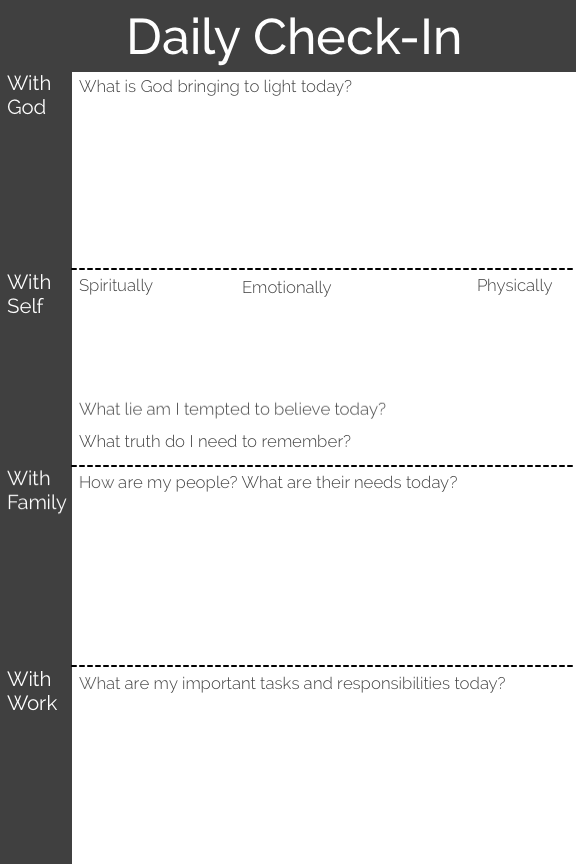 What has stuck out to you recently from a passage of scripture, a sermon, or a conversation? 
What is something God might want you to pause and ponder?
Do you notice any patterns or repeated themes in the conversation topics, teachings, and Bible passages you've felt drawn to recently?
Is there anything you've been trying to avoid thinking or praying about?
In this section, take time to reflect on anything God might be bringing to your attention.
Start the week in sanctuary
Weekly Sanctuary is a short, weekly meditation on a biblical theme. It's designed to help you create space in your life to find refreshment and regain perspective.