You can support Collegiate Abbey by donating using the donate buttons below or by mailing a check to:
Collegiate Abbey
502 Gay Street Suite 404
Knoxville, Tennessee 37902
* checks made out to Collegiate Abbey are tax-deductible
Britton & Brooks Sharp
Help support the Sharps, one of the founding families of Collegiate Abbey
Steve & Reneé Moldrup
Help support the Moldrups, one of the founding families of Collegiate Abbey
Collegiate Abbey partnership
Dignity has been supporting displaced people entering the Czech Republic since 2015, following Christ's calling. Our work is vital to help people integrate and settle into a new country, but our aim is to go further. We work very closely with refugees who have been forced to flee their countries due to war, terror or persecution. We provide assistance in a variety of ways – from finding schools for children, assisting with interpreting and translations, providing accommodation and helping with medical needs. We believe refugees are very close to Jesus's heart as He Himself was a refugee on several levels.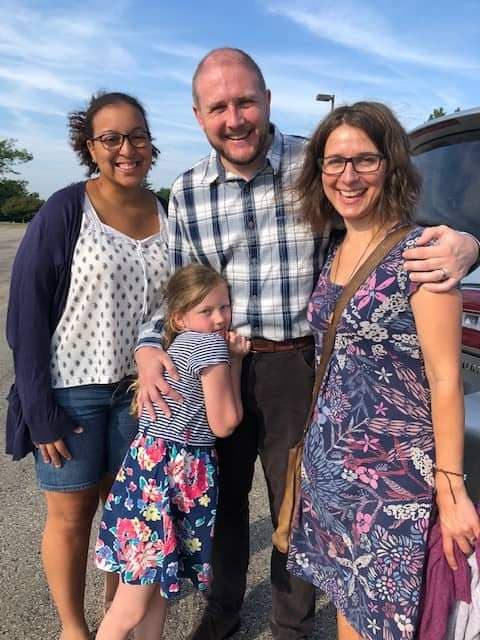 Meet The Damms:
Tom and Petra have two lovely daughters, Emma and Molly. Both Tom and Petra left their jobs to be able to develop the work and impact of Dignity among the refugee community. Emma is getting ready for University, while Molly makes sure everyone is having fun and feels welcome!
We would like to let you know of a pressing need the Damms have. This week they received word that their financial partner who so graciously supported them personally over the past year is unable to do so currently. This was their only means of personal support and their last donation was for August. They are trusting God to raise up partners to help them meet their financial need of $3,000 dollars a month or $36,000 yearly by September 1st. Would you prayerfully consider partnering with Petra and Tom as they serve the refugee community?
**Due to Dignity being an international organization, donations made in the US cannot be tax-deductible, Collegiate Abbey is hosting and partnering with Dignity to help garner support for their ministry to help achieve sustainability