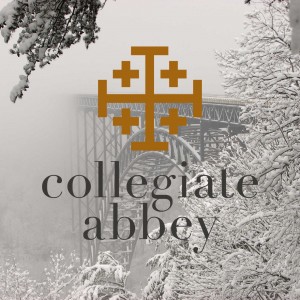 Thank you for checking out our update on the developing of Collegiate Abbey. Currently, we are gathering the resources needed to launch at the start of the Fall semester 2016. These resources range from financial, educational, physical, theological and technological. We have been encouraged by how God is providing and continues to develop the foundations for the ministry of Collegiate Abbey.
We look forward to partnering with the various faculty offices on campus, as well as encouraging those that serve the students in so many ways. We would ask for your prayers as we explore these partnerships, that God would give us wisdom and allow us to encourage and exhort those who serve on the campus.
We chose a bridge as our background image above because it symbolizes much of what we will be doing in these initial stages. Our desire is to connect individuals and groups, both sacred and secular, to meet the needs on campus. Through forming partnerships with administrative offices, student organizations and churches in the community we hope to bring health and healing to our collegiate community and therefore our city.
In the coming weeks we will be walking through the focus of Collegiate Abbey.  Each week we will cover a component of our mission – to create environments of spiritual and personal growth, to shepherd with the heart of Jesus Christ and to serve strategically to effectively meet the needs of the collegiate community.  Please join with us over the following weeks and help us to spread the word of how God is developing this new ministry on campus.
Another way you can also help us spread the word is by liking our page on facebook and following us on instagram and twitter: collegiate.abbey
Thank you so much for reading! May God bless!
Grace & Peace
Britton Sharp
Director